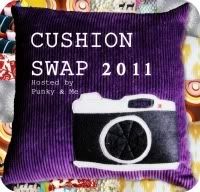 I am soooo nervous about this, ridiculously so. I have been looking at
the other beautiful cushions
criss-crossing the country and wondering whether this is really up to scratch. Particularly since I only realised at the joining up stage that I was crocheting the cushion into the cover! Oops. Oh well, now my recipient will be recieving not just the cover but the cushion inside - bonus!
This is the cushion front - nine lovely granny squares.
And the cushion back - one large granny square.
I guess you could use either side, depending on your fancy.
Hope my mystery reciever likes it (insert nervous giggle!)